OmniSLIM: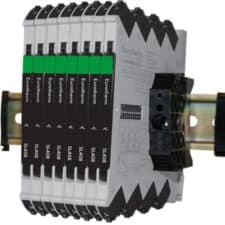 Signal Conditioners apply across a range of requirements; amplifying or splitting signals, conditioning sensor outputs, isolating grounding problems, or adding more drive to current loops.
Input Type: DC Volts/Current, RTD, Thermocouple
Output Type: 0-20mA, 0-5V dc, 4-20mA dc
Power Rating: Loop or 16.8 to 31.2V dc
---
Ultra SlimPak: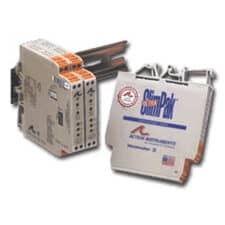 Ultra SlimPaks are high density, DIN Rail mount, setpoint limit alarm and isolating signal conditioner modules. All Ultra SlimPak modules utilize Action's advanced, ASIC-based design for field configurable input and output flexibility.
Input Type: AC Volts/Current, DC Volts/Current, Frequency, Potentiometer, Strain Gauge, Thermocouple, mV, RTD
Output Type: 0-10V dc, 0-1mA dc, 0-20mA dc, 0-5V dc, 2 SPDT relay(s), 4-20mA dc
Power Rating: 9-30V dc, G448 18-30V
---
Ultra SlimPakII: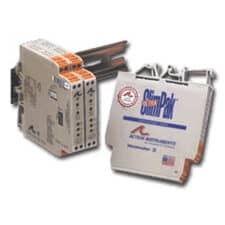 The Ultra SlimPak II Series can function as traditional standalone limit alarms and isolators, or they can simultaneously be connected to your company's intranet to monitor your signals via a standard browser when coupled with the optional WVC16 interface unit.
Input Type: AC Volts/Current, DC Volts/Current, Frequency, Potentiometer, Strain Gauge, Thermocouple, mV, RTD
Output Type: 0-10V dc, 0-20mA dc, 2 SPDT relay(s), 4-20mA dc
Power Rating : 9-30V dc