ACES Steam Generators for Enhanced Oil Recovery
Steam generators for recovering the highest possible percentage of Original Oil In Place (OOIP) is an urgent concern in today's political environment — one for which you need the most advanced control system available. At ACES we've combined 45 years experience with control systems and 10 with steam generators, and applied them to the challenges of the Enhanced Oil Recovery (EOR) industry.
ACES is ISO 9001:2015 Certified in Design, Development, Manufacture, Installation, and Technical Support on a World-Wide basis for Steam Generation Technologies and Products for the Oilfield Industry.
With our ASME S, National Bord Inspection Code, and NB-415 certifications we build and refurbish Oilfield Steam Generators. Currently we have a new 27 MM BTU OTSG under construction and a used 50MM BTU OTSG in reman which will have any entirely new convection and control system. 
Flexsteam Control System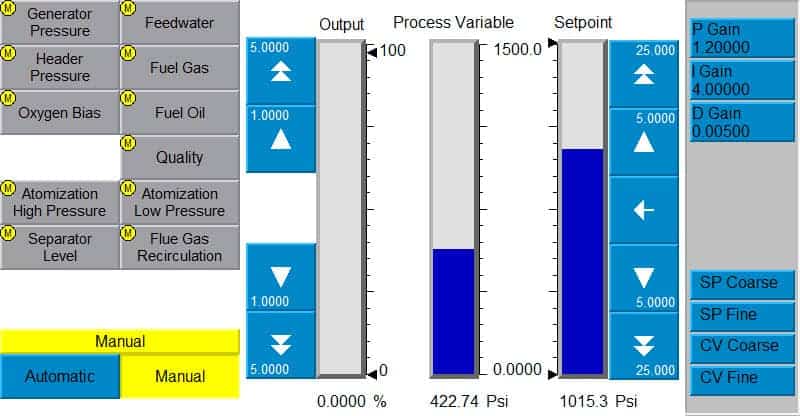 Overview of oil, water, pressure, levels and other main processes.
FlexSteam provides a comprehensive control system that allows the operator to set their own parameters, perform basic troubleshooting and bring their generator within much tighter tolerances.
FlexSteam Control System includes:
PLC
Operating system with tablet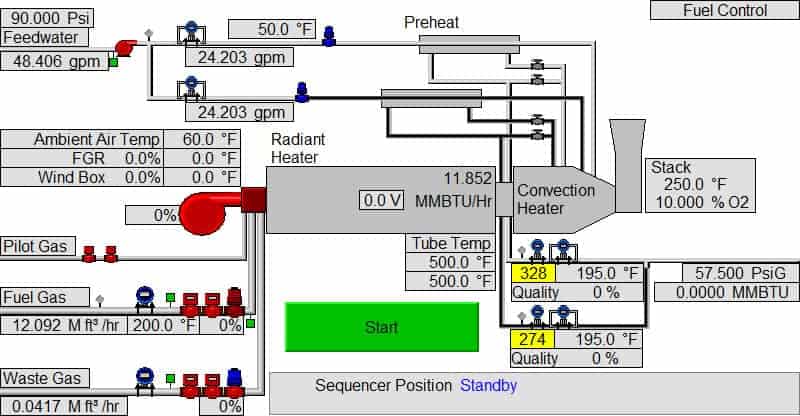 Adjust feedwater, ambient air temp, pilot gas, fuel gas, waste gas and more — without a call to the manufacturer.
From a single touchscreen specify these essential parameters:
| | |
| --- | --- |
| | Accurately predict steam discharge quality |
| | Track and control emissions |
| | Perform complete adjustments |
| | |
| High and low limits and alarms | |
Most manufacturers require you to call them for this type of service, leaving you to wait for a technician's arrival.
FlexSteam Control System includes an onboard knowledge base, updated with feedback from customers like you. Our FlexSteam control panel, PLC and operating system provides this power at your fingertips.
Change your steam per hour from 900 to 30,000 pounds?
Burn diesel instead of propane?
Call us! We customize to your specifications.