Temperature Controllers and Limits
Multi Loop Controllers
3500 Series: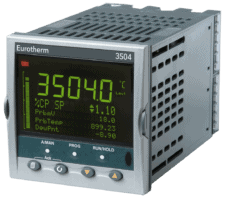 One or two PID loops make the 3500 ideal for interactive processes such as those found in carburizing furnaces, environmental chambers and autoclaves. The loops may also be 'soft' wired together in creative ways to create cascade, ratio or other intelligent control strategies. Available in 1/8 and 1/4 Din Sizes.
Nanodac: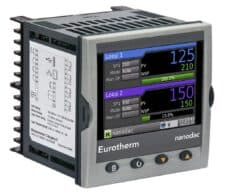 This recorder/controller offers the ultimate in graphical recording combined with PID control for a box of its size. The compact ¼ DIN panel mount unit offers four high accuracy universal inputs for data recording and PID control. This secure data recording device with accurate control is enhanced by a full color, ¼ VGA display to bring a crystal clear operator interface to even the smallest of machines.
Mini8: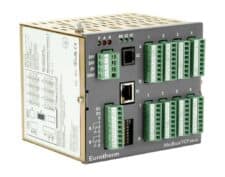 The Mini8 Controller offers high performance control usually only found in Eurotherm panel mount PID controllers. It is also a very competitive and compact data acquisition device. Its modular design enables its I/O and feature set to be selected to cater for a wide range of applications from simple to complex.
---
Single Loop Controllers
EPC3000 Series: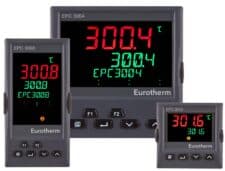 The EPC3000 range of programmable single loop process and temperature controllers maximizes efficiency and repeatability and is certified for cybersecurity communications robustness. Available in 1/16, 1/8 and 1/4 Din Sizes.
EPC2000 Series: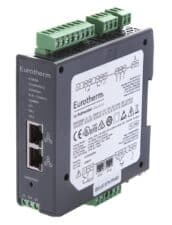 The EPC2000 programmable single loop temperature and process controller provides efficient and repeatable precision control in a convenient and easy to deploy DIN rail and surface mounting format.
3200 Series: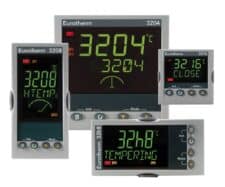 The innovative range of 3200 series controller offers precision control of temperature and other process variables together with a host of advanced features not normally found in this class of controller.
---
High Limit Units
3200i Series: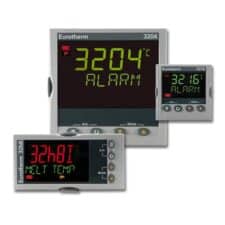 The Eurotherm range of 3200i indicators offer accurate indication of temperature and process measurements. Process interlocks, including overtemperature furnace limits, are implemented using relay output channels.