Recorders and Data Acquisition
6000 Series Paperless Graphic Recorders
6000XIO Series: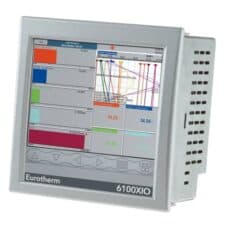 Each 6000XIO instrument has an intuitive, touch screen display to enable operators to clearly view process data in varying formats.  All have onboard Flash data storage capability, Ethernet communications and Compact Flash cards for data archiving.
All 6000XIOs have Ethernet communications.  They can be configured to archive to the removable media and / or over Ethernet.  Archiving files over Ethernet effectively gives a secure, infinite archiving capacity.
Ideal for:
Remote monitoring applications
Water/wastewater solutions
Utility distribution
Power generation
21 CFR Part 11 applications
AMS2750E/Nadcap applications
Features:
Modbus master
Ethernet TCP/IP
Serial comms
Up to 176 comms channels
Batch functionality
Audit trail
Individual user accounts
Software password protection
USB 'plug & play'
Web server
4 alarms per channel
24 custom displays
Up to 32 Modbus slaves
---
6100A/6180A: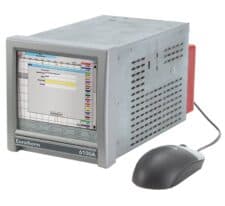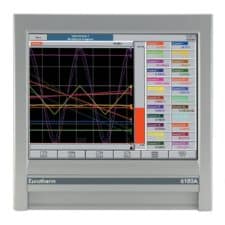 Eurotherm 6100A and 6180A Series Data Recorders have been specifically designed to meet industry requirements for data integrity of process records in pharmaceutical, aerospace, automotive and food & beverage applications.
With capacity extendable to 48 precision input channels, and recording interval of as little as 125ms, the 6100 series is self-contained, cost effective and trusted by customers and auditors alike.
Data can be encrypted during transmission to archive or backup servers, using SFTP to prevent interception or falsification of packets. Data redundancy is provided using a store and forward mechanism to avoid data loss if a network connection fails.
---
Nanodac: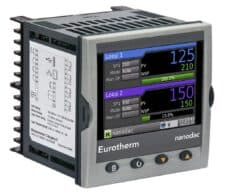 This recorder/controller offers the ultimate in graphical recording combined with PID control for a box of its size. The compact ¼ DIN panel mount unit offers four high accuracy universal inputs for data recording and PID control. This secure data recording device with accurate control is enhanced by a full color, ¼ VGA display to bring a crystal-clear operator interface to even the smallest of machines.
---
Versadac™ Scalable Data Recorder: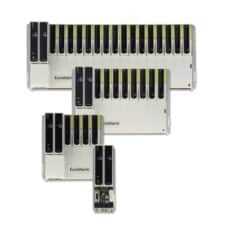 The versadac™ scalable recorder offers a versatile solution for data recording at point of measurement. Comprehensive security and data integrity make it ideal for use in regulated industries.
The versatility of this unit comes from a flexible range of base sizes and selection of input and output modules to best suit specific application needs. A wide range of software features are available including batch control, maths functions, totalisers, communications channels and audit trail. Electronic signatures and password control functionality which meets the requirements of FDA 21 CFR Part 11 is also available. Upgrade of both software and hardware can be easily carried out on site ensuring the versadac recorder can grow with your process needs.
The versadac recorder is easy to integrate into wider systems with Modbus Master/Slave or EtherNet/IP Client or Server communications options. The modular equipment can also be distributed throughout the plant in best position to reduce installation and cabling costs.